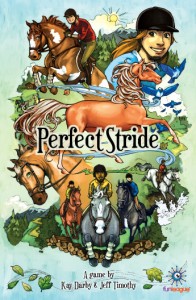 Saddle up your horse, challenge your fellow riders and be ready to take on some very challenging jumps.  Will you be the one to collect the most ribbons to win the race?  Get a copy of the horse game sensation from Funleague Inc… Perfect Stride is one of the best horse card games you'll ever play!
At home or away on a road trip, games by Funleague Inc. offer a great time for everybody.  This unique adult, teen, boys and girls horse game includes a beautifully illustrated 95-card deck, 54 Ribbon Cards, 16 Pace Cards and a Lead Rider token.
Price: $24.95 US
Perfect Stride is now available! $19.95 + 7.95 flat rate shipping CDN.

NOTE: for our American friends,  we encourage you to ask your local retailer to carry Perfect Stride!  Have them visit FunleagueGames.com to get in contact with us!  In the mean time, you can purchase a copy directly from us!

Find Perfect Stride at one of the retailers below.
CANADA
Presents Presents Presents
60 Brock St. West
Uxbridge, ON Canada
L9P 1P3
(905) 852-9544
Canter By Tack and Gift
3 – 14 McEwen Dr. West
Bolton, ON Canada
L7E 1H1
(905) 951-1742
www.canterbytack.ca
Baker's Harness and Saddlery
11181 Woodbine Ave.
Gormley, ON
L0H 1G0
1(800) 550-0163
www.bakerssaddlery.com
UNITED STATES:
Please purchase directly from us.